Profile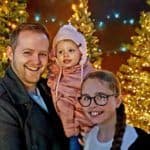 Gareth Nye
Wow that was a great session! Thanks guys!
Curriculum Vitae
Education:

Wirral Grammar School for boys, University of Liverpool (Physiology BScHons, Clinical Science MRes, PhD in musculoskeletal pathophysiology)

Qualifications:

10 GCSEs, 4 A-Levels, BSc(hons), MRes, PhD

Current Job:

Postdoctoral researcher

Employer:
Favourite thing to do in my job: Find out new things about the placenta to help future babies!

About Me

I'm Gareth! I'm a scientist looking at understanding problems during pregnancy!

Read more

I live in a town called Newton-le-willows which sits between Liverpool and Manchester with my wife Joanne and my two girls – Megan who is 9 and Gracie who is 2.

My favourite food is anything Italian – i just love pasta!

I love The Simpsons but always end up watching YouTube videos with my girls – the slime ones are our favourite! I also love music and have played the guitar now for nearly 20 years!! I'm a big Liverpool FC fan and sometimes write articles for LFC fan pages on football injuries.

I get the most joy out of teaching younger children about how cool science is and hopefully inspiring a new generation of scientists!

My Work

I look at how oxygen passes from the mum to the baby during pregnancy to help the baby grow!

Read more

I work at St Mary's Hospital in Manchester which is a hospital just for pregnant women.

I have a great little lab with some amazing views on a nice day!


My work focuses on the placenta – this is the place you and your mum shared important nutrients, gases and water during pregnancy. The reason we are all here today is because your placenta worked!


In some cases though, it doesn't work as well as it should for a number of reasons and this can lead to babies not growing as well as they should.

My work looks closely at how oxygen gets from the mums blood, across the placenta to the baby and reasons why this may not work properly.


I use a special technique called perfusion which keeps the placenta "alive" outside of the mum after the baby has been born. This involves closely copying what it would be like inside the mum and its really really hard to do!


When the placenta is being perfused though, i can use special needles that measure oxygen in different places which tell me how well the placenta is at using the oxygen and passing it over to a baby. It makes a nice picture which looks like a weather map!



When we look at placentas from babies that havent grown so well, we can look for differences in oxygen maps to help explain the reasons why.

I helped make a video for everyone to understand: Watch it here on YouTube

My Typical Day

I tend to work 8am until 4pm and set up an experiment everyday!

Read more

In science, no day is a typical day! Its all so unpredictable!

I usually get into work at 8 in the morning. I make up the chemicals that i will use for my experiments because they have to be fresh. I then put them into a water bath to warm up – this is so my experiment matches the body temperature of humans!

Next i will find out which mums are going to give birth that day – sometimes there loads to chose from and other times there is no one! One of our midwives will go down and tell the mum all about our research and ask them if we could use their placenta after the baby is born. If they are happy, they will say its ok to use the placenta.

I will then wait until they mum gives birth and i go and collect the placenta and bring it to the lab where i can set it up for my experiment. The experiment can take up to 4 hours!

Once its finished, i will tidy up everything (as its very messy there is a lot to clean!) and then look at the information i got.

On a normal day i will leave work at 4pm but sometimes i dont go home until 7-8pm!

For placentas from babies that havent grown as well as others, i will even be on call for it. This means i could get a phone call at anytime of day or night to come to work and do my experiments! It can be a long day but i dont mind because i'm finding out important things that will help everyone.

What I'd do with the prize money

Design and set up after school STEM club for local junior schools

Read more

My plan would be to set up a after school STEM club in a local primary school which would run once a week for a term (or around 7/8 weeks) which would incorporate basic biology, chemistry and physics but be hands on in terms of experiments that the children can do themselves.

Initially, i would use the money to buy specialised equipment or create activities for this event. Depending on which sessions were enjoyable or not, i would then look to develop the programme eventually moving into other schools. Some initial ideas include how digestion works, can you make a working model arm?, the three states of matter (and other weird ones), can you solves a mystery crime?, who can build the highest tower without it falling etc

The final aim would be to allow these clubs to be self sufficient with a teacher feeling confident enough to run them without me to allow these session to run year on year.

My Interview

How would you describe yourself in 3 words?

caring, funny, determined

What or who inspired you to follow your career?

My parents inspired me - they always told me that if i work hard in school, i would end up doing a job i love rather then working for money!

What was your favourite subject at school?

Biology definitely!

What did you want to be after you left school?

I honestly didnt know - i just knew i loved science, medicine and biology!

Were you ever in trouble at school?

No! Never! I was a good student!

If you weren't doing this job, what would you choose instead?

I would be a paramedic, they truely are life savers and do so much work to help us

Who is your favourite singer or band?

I love lots of bands - my favourite is a rock band called Alter Bridge

What's your favourite food?

Pasta!

What is the most fun thing you've done?

Scuba diving in Cyprus was an amazing experience - its liek you are on a different planet under the sea!

If you had 3 wishes for yourself what would they be? - be honest!

I dont need 3 wishes - i only have one wish and that is for my 2 year old Gracie to be cured of her Type 1 Diabetes!

Tell us a joke.

Did you hear about the man who invented the 'knock-knock' joke? He won the "No-Bell" Prize!
---
---